Hapao Rice Terraces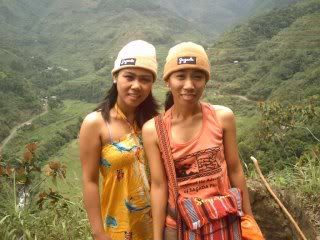 with my sister
Even when I was a child, I dreamed of visiting the well known rice terraces. My sister and I took time to visit this place, more than 2000-year old terraces that were carved into the mountains of Ifugao Province by the indigenous people. We Filipinos referred this as the "Eighth Wonder of the World". The terraces were built with minimal equipment, largely by hand. The terraces are located approximately 1500 meters (5000 ft) above sea level and cover 10,360 square kilometers (about 4000 square miles) of mountainside. They are fed by an ancient irrigation system from the rainforests above the terraces. It is said that if the steps are put end to end it would encircle half the globe.
The Banaue terraces is a UNESCO World Heritage site, it is part of the Rice Terraces of the Philippine Cordilleras, ancient sprawling man-made structures from 2,000 to 6,000 years old.
I was really amazed by the site of the terraces, really thankful. Although locals to this day still tend to the rice and vegetables on the terraces, but more younger Ifugaos do not find farming appealing, often opting for the more lucrative hospitality industry generated by the Rice Terraces. The result is the gradual erosion of the characteristic "steps", which need constant reconstruction and care. The high rice fields of the Ifugao have followed the contours of the mountains. The knowledge handed down from one generation to the next, and the expression of sacred traditions and a delicate social balance, they have helped to create a landscape of great beauty that expresses the harmony between humankind and the environment.
The trip itself is an adventure. The road is literally long, rocky and winding road. I thought it was just a joke that the jeeps in Banaue can carry the passenger on the top load; and it's true. I was scared and at the same time amazed. There were foreigners chose to ride on the top load instead of inside the jeep. The view is really fabulous and picturesque.
According to the locals the most beautiful and maintain rice terraces is the Batad Rice Terraces, but we were lack of time so we opted to trek to Hapao Rice Terraces, Hapao, Hungduan instead. We visited the hot spring natural pool there; it is not big as much as that of
Hot Spring
in Bicol. Our tour guide was really accommodating and very patient to guide and guard us as we trail the terraces.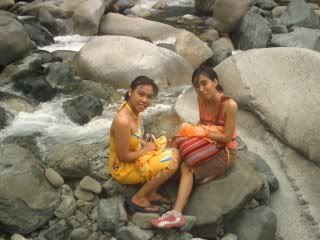 Hot Spring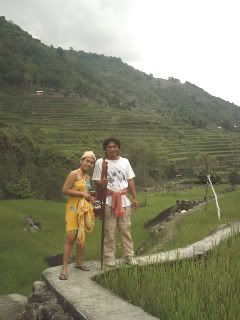 My sister with our Tour Guide
Hanging Bridge in Banaue