When we planned to visit the
Banaue Rice Terraces
, we planned to go to Sagada, Mountain Province, too. It is located 275 km. north of Manila, 140 km. from Baguio. The Trip itself to Sagada is more on an adventure. Long, rocky and winding road.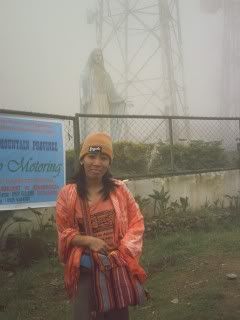 Mt. Polis-very foggy
"Hanging coffins" is the trademark of Sagada. This is a traditional way of burying people that is not in use anymore. Trekking, explore caves and waterfalls, spelunking, bonfires, picnics, rappelling, visit historical sites, nature hikes, and participate in tribal celebrations are among the popular activities. Guides can be found upon registration at the tourist-office in Sagada Proper (the main town) for a small fee. You can choose a tour package at the registration office.
Lumiang Cave
The Hanging Coffins
We were lucky because we found a family of 6 persons and we formed as a group so that we could minimize the payment for tour guides and jeepney rental. We chose the tour package to explore Sumaguing and Lumiang Caves, where hanging coffins can be seen. At the back of a transient house where we resided, there is a rice terraces. The climate and crops are like those of Baguio and Benguet: cabbage, tomatoes, green pepper, potatoes, carrots, beans, and other temperate products.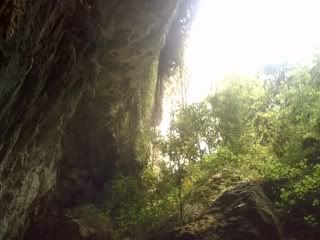 Entrance of Sumiwang Cave
There are many places to stay in Sagada but when we arrived the hotels and houses were already taken. We met a woman by the Name of Rose, her family was very willing to accommodate us but her house was already full of tourists. She was the one who found a shelter for us. Her friend Rose Agpad was not accepting transients because her house is under renovation but because we couldn't find a place, she was willingly accept us and even those who arrived after us. The people here are very accommodating and warm. They treat their tourists nicely and they even go for extra miles just to make their tourists comfortable.
The tourists said that you have to eat in Yoghurt House when you are in Sagada because this restaurant will complete your tour. True enough this restaurant is really a nice one to dine-in. I love the food but we had to wait for an hour in order for us to be served. There was a long line of waiting tourists to eat. Nevertheless the foods were worth the wait.
Dinner at Yoghurt House
Sagada has many natural wonders. Backpackers and tourists can enjoy the waters of Bokong and Bomod-ok Falls. Other places that can be visited are: Sumaguing and Lumiang Caves, Bomod-ok and Bokong Falls, Rice terraces, Echo Valley, Kiltepan Tower, Underground River, Lake Danum.