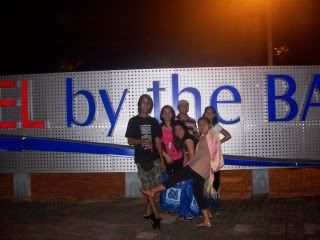 SM Mall of Asia also known as MOA or MoA is currently the largest shopping mall in the Philippines [1] and the 3rd largest shopping mall in the world in terms of Gross Floor Area according to Studies by Eastern Connecticut State University. It opened on May 21, 2006. The mall is located at Bay City, Pasay City, Philippines just near the SM Central Business Park and the Manila Bay. The mall attracts people from locals to foreigners

One of the attractions here is the San Miguel by the Bay just at the back of the Mall. As Manila mayor Alfredo Lim ordered the demolition of structures along the shorelines of Manila Bay, Manila known as Baywalk. The demolition coincides with the construction of a wide array of restaurant and Open Park. Patrons of the deserted Baywalk quickly flocked the new feature of the Mall of Asia complex, which is also along the shorelines of Manila Bay in Pasay City.



Manila Sunset in a gloomy day




The wide array of restaurants also features a small sea food market known as seaside where patrons can buy fresh sea foods and request to cook them in Paluto stalls or restaurants.
In the afternoon this place is the best place to witness the Manila Sunset and during the nights you can listen and watch live bands, sing in the videoke machine of some restaurants or watch mime artists.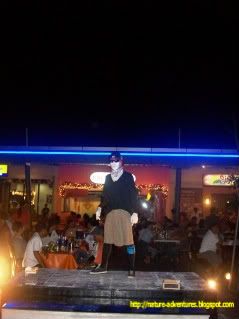 Mime Artist

There is a dancing colorful fountain installed and a Firefly Choir Christmas Tree, which is composed of top band chorales, a 53-foot giant singing Christmas tree that has 47,000 bulbs and yet consumes 3,000 watts, festooned with cost-saving firefly light- emitting diode and fluorescent light. It is Firefly's way of promoting energy-efficient solutions from every home and that holiday lighting need not to be a burden to the environment. The tree uses energy-sufficient saving wonders proven to be more cost effective, functional, long-lasting, durable and environment-friendly.
Sometimes we go there early in the morning to join the group who do exercise. There are fitness equipments free to use. There are pet lovers who bring along their pets as they do exercise. The ground can be used as picnic ground, that's why some family do picnic there too.