In our family, we find time and ways to do excursion together. Last December 29, '08, after days of raining sun showed up so we had the chance to do it. Our plan was to go to Albay and explore a cave and the wildlife but something happen with the van that my brother-in-law borrowed. But it didn't stopped us, we borrowed a van but this time with our relatives, thanks for lending. And we went to do a little bit shopping from the Department stores (there are few). The shoppers were plenty that's why we went to the Sorsogon City Baywalk.
I had taken a picture like this in my
other post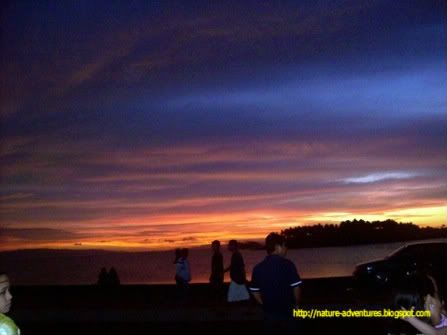 The sunset is really awesome. The changing of the hues up the sky is really breathtaking. There are food stall and videoke bars too. In the night there are live bands. It is patterned from the Manila's Baywalk before.
We brought our own food and did picnic. The kids enjoyed and planned to come back some other day, although from time to time they hang-out there too.